A LITTLE BIT OF NATURE
1.Countryside Immersion
Address: Ben Tre / Cai Be
City escapes are always a great idea, and even better if you are visiting such an energetic town as Saigon. Heading south, just a few hours away from the city, a very tranquil, green and tropical part of the country awaits. The
Mekong Delta is one of the highlights of Vietnam due to its lively and colourful floating markets but it's also an excellent place to find some peaceful time, enjoy countryside walks and cycling, taste some southern treats and simply find yourself surrounded by fruit and vegetable gardens.
The Mekong Delta is immense. In Vietnamese is called 'Cuu Long'. This means 'Nine Dragons' and if you see the Mekong from above you can easily spot the dragon-shaped delta with its nine river tails flowing into Southern Vietnam and Cambodia. If you prefer a day trip from Saigon, visiting Cai Be is usually the best option. However, if you are looking to stay one night in this lovely part of the country, Ben Tre should definitely be your first choice.
Accommodation options are not many, but you can go for a more authentic experience and stay in a local's home instead. You'll definitely feel the southern Mekong charm.
2.Southern Vietnam Evergreen forest
Address: Cat Tien National Park – Tan Phu District, Dong Nai
Cat Tien National Park is located 150km from Saigon and it's one of the typical scape destinations from the exciting city life. This dreamland for nature and outdoor lovers, is home to a large number of birds, plants and mammals including numerous endangered primate species such as the golden-cheeked gibbon. Bicycles are probably the best way to explore the surroundings and you can easily rent one at the headquarters of the park.
For those adventurous spirits, overnight treks and night safaris are highly recommended. The park has a lovely lake that can also be enjoyed by renting a kayak. Although it's not really close to the city, saigonese tend to visit the park in one day, but if you feel like staying for the night there are many accommodation options, from local minorities homestays to deluxe lodges.
There is nothing better than waking up to the sound of birds.
PARKS & OUTDOORS
3.Go the local way!
Address: 23/9 Park – Phuong Pham Ngu Lao, District 1 MAP
It's always a good idea to take a little break from all the sightseeing, specially when you are visiting cities with sizzling summer temperatures. Parks in
Saigon are everywhere and most likely, the park 23/9 will be a few steps from your hotel. Expect exercise machines all around, dance classes, friends and families getting together once the sun comes down, and young saigonese gathering in the pursuit of a traveller who will talk in English with them.
Make sure you spend a couple of hours here: find a shade, buy a drink, get some of the sweet locals snacks at any of the seller's stalls and it will probably take a couple of minutes for a cheerful student to find any excuse to practise English with you. Take this as an excellent opportunity to get to know a little bit more about local life in Ho Chi Minh City.
4.Goooooood morning Vietnam!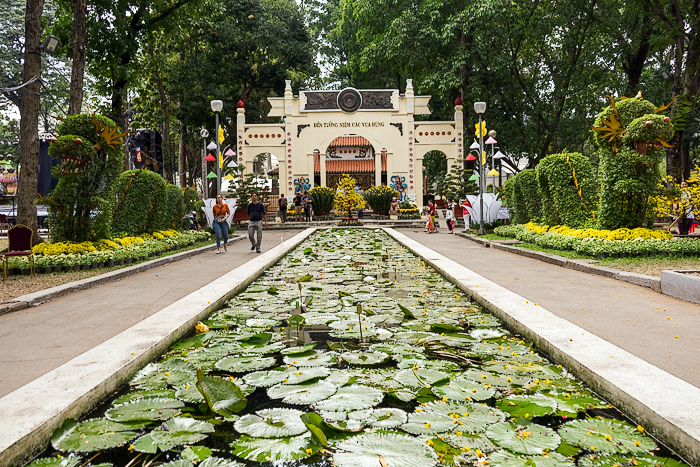 Address: Tao Dan Park – 110Bis, Nguyen Du, Ben Thanh Ward, District 1
There are so many parks in Ho Chi Minh City, but Tao Dan Park is probably a favourite amongst locals and visitors. Besides being a preferred spot for tai chi enthusiast and aerobics fanatics, this park is also the meeting point for bird lovers who gather every morning with the sole objective of admiring and listening to songbirds singing to each other.
Get there right before sunrise. This is the coolest and calmest time of the day.
Enter the park through Cach Mang Thanh Tam street and you will soon spot the small chairs and tables belonging to an adorable man selling Vietnamese coffee. Order a 'cà phê sữa đá (coffee with milk and ice), get a table and let the early morning pass by.
LET'S GET CULTURAL
5.A glimpse to Vietnam's past
Address: War Remnants Museum – 28 Vo Van Tan, Ward 6, District 3
Vietnam is a country with a very tough past. Visiting Ho Chi Minh City's War Remnant Museum takes you back in time and helps you understand more about the country's history. Travellers from all over the world visit the museum to learn about Vietnam's point of view and response to the war.
Besides sharing historical facts, the museum displays photographs taken during the war as well as post-war consequences. Make sure you don't miss the Requiem Photo Exhibition, a collection of photographs taken by 134 international journalists who lost their lives during the Vietnam War. We should also advice on visiting the museum during the morning. In the afternoon it gets really crowded with large groups coming from a previous visit at the Cu Chi Tunnels.
6.An spiritual and captivating visit
Address: Thien Hau Pagoda – 710 Nguyen Trai, Ward 11, District 5
Thien Hau Pagoda is a very atmospheric and well-preserved temple – one of the oldest in the city. Located in 'Cho Lon' (Chinatown), Thien Hau is dedicated to the goddess of the sea, who protects sailors and fishermen.
Everything on this pagoda is captivating. You will find yourself staring at the impressive ceramic roof decorations or immersing on the thick smoke coming off the burning incense coils purchased by devotees who wait for their prayers to be received by the goddess of the sea. These incenses coils are hanging from the temple's ceiling and last for a few weeks. Together with the Chinese script pink papers, placed on the sides of the pagoda, they create an enchanted spiritual ambiance that you must experience.
DON'T BE LAZY
7.Working-out the Saigonese way
Address: Cau Cong Ly (Cong Ly Bridge) – Nam Ky Khoi Nghia and Hoang Sa intersection, District 3
Early mornings and late evenings are the coolest times of the day to work out.
At dawn parks get crowded with aerobic classes and dance lessons. In the evenings, a long stroll through the river's canals sounds like an excellent plan specially after a hectic, hot and humid day. If you crave for a pleasant, trafficfree walk, head to the Cong Ly bridge over the intersection of Nam Ky Khoi Nghia and Hoang Sa in District 3 and simply follow the canal's curves.
Outdoor gyms are placed every couple of hundred meters, and sidewalks are lengthy and wide, which is perfect for runners and walkers. Yogis and tai-chi enthusiasts find their spots over the well-maintained pasture and you'll be most welcome to join if you are in the look out for a more relaxed session.
8.Purely 'Om' experience
Address: Yoga Living – 19 Vo Van Tan, Ward 6, District 3
Yoga Living is the place to go if you are in need of a deep connection with the elements. Their schedule is very flexible, and it offers different yoga styles and levels to choose from. All classes are given in both English and
Vietnamese. You can go for individual classes or get a short-period membership if you'll be in town for a while. Practices are taken very seriously and a series of strict rules apply to all students. Even if you are a first-timer or you've been to Yoga Living before, all yogis need to arrive at least 5 minutes earlier and cannot leave before the class ends. Make sure you bring a bottle of water and a towel as it can get super hot once the class has started!
SHOPPING TIME
9.Authentic local market experience
Address: Binh Tay Market – 57a Thap Muoi, Ward 2, District 6
Most travel guides will always recommend Ben Thanh Market. Yes, this is the most popular market in the city, but its fame took away some of its authenticity. Sellers are very pushy, they'll grab you and insist you on buying from them and walking through the small pathways seems to be an impossible mission.
If you want to feel the real market vibe and shop where locals go, head to Cho Lon, also known as District 5, where Binh Tay Market has been opening its doors for more than 40 years.
Binh Tay sells all sort of things, from clothes to souvenirs and even kitchen utensils. It is known among locals and residents that Binh Tay Market has the best prices in town. If you are an early riser, head there before 8am to check out the wet market on the back streets where they sell fruit and fresh items. If you rather go there later, take advantage of lunch time and try some of the
Chinese specialties sold at the food court. Some of the stalls have been passed down through generations and been selling incredible and tasty dishes for over 40 years. The market recently underwent renovations, but it's now open again and it's absolutely worth a visit!
10.Paradise for shoe lovers!
Address: An Dong Market – Cong truong An Dong, Ward 9, District 5
This is the place to go if you are on the look for affordable clothes, shoes or any other fashion-related item. Famous for its handicraft items, An Dong is a large and popular market among Saigonese people. It has 3 floors: on the first two floors you'll find an incredible amount of shoes and clothes sellers.
You'll probably spend a lot of time here as we are not exaggerating when we say this section is really big, but don't forget to visit the top floor where all fabrics and handcrafted goods are exhibited. Make sure you take some small notes and be ready to put into practice your negotiation skills
DAY TRIPS
11.A taste of the Vietnamese underground maze
Address: Cu Chi Tunnels – TL15, Phu Hiep, Ho Chi Minh
It will take you only two hours to arrive to one of the greatest works of the Vietnam War. The Cu Chi Tunnels are an extensive network of underground tunnels used during the war not only as hiding spots, but also as shelter and home for the Viet Cong guerrillas. The secret tunnels took almost 25 years to build and are the evidence of Vietnamese instinct of survival. Schools, hospitals, supply routes, living quarters, ammunition dumps, kitchens and even theatres were built on this underground maze. Nowadays, the tunnels are open to the public as a memorial park and can be visited by everyone. It's simply amazing to walk along the tunnels, get a glimpse of the past and witness one of the most incredible and witty man-made underground systems.
12.The home of Caodaism
Address: Cao Dai Temple – Hoa Thanh District, Tay Ninh Province
Cao Dai religion was established in Vietnam in 1927. Founded by a Vietnamese official who worked for the French administration, it's nowadays one of the main religions in the country. Caodaism combines ideas from many other religions and the temple in Tay Ninh is one of the greatest Cao Dai temples ever built. The visit could be combined with Cu Chi Tunnels, but whatever arrangement you go for, make sure you visit the temple during one of its four ceremonies. You'll be blown away by the contrast of the temple's decoration, the garments of the devotees and the sound of the choirs and traditional gongs on the background. This is a real one-time life experience – make sure you arrange some time to stop by!
LOCAL ENTERTAINMENT
13.Vietnamese culture through the magic of theatre
Address: A O Show – Saigon Opera House – 07 Cong Truong Lam Son, District 1
One of the places you must visit while in town is the Opera House. This fantastic French colonial building is also the venue of one of the most incredible shows in the city. The aim of the A O Show is to show a different side of Vietnam by blending the arts of dance, circus and musical performances with the traditions, legends and culture of the country. Tickets can be purchased online through their website and there are different options for seats, prices as well as a variety of shows to choose